About
It was in Wisconsin, where I grew up, when I, along with my young family, packed all we owned into our trusty micro bus and headed west. The year was 1971 and our destination was sunny California where a life of surf, sand and sun, awaited us.

We were fortunate enough to settle in a beach community and soon discovered, much of our daily living would be spent hanging out at the beach with campfires to warm our spirits and barbecues to keep us fed.

Some evenings, we'd go to our favorite local restaurant known for it's great basted ribs and fish. It always proved to be a great eating experience for the whole family.

Since I'd grown up in a culinary savvy family, experimenting with different recipes came naturally to me, so inspired by that restaurant's sauce, I decided to try my hand at creating my own. A sauce that would work well with ribs, chicken, and fish, as well as vegetables and fruit. I served my latest version at every barbecue I hosted and eventually, family and friends began insisting I make my sauce available for purchase.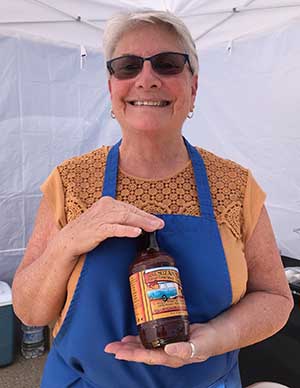 Of course, as sometimes happens, life would get in the way and my sauce would have to be set aside for another day. But now the kids are grown and I'm happily retired. So when friends implored me to make my sauce available to the public, or at the very least in a package suitable for consumption by friends and foodies alike, I decided to do just that.

It is my hope that you will enjoy this savory, sweet and tangy sauce for your BBQs, marinades and basting or as a great glaze on any number of items from fish to fruit.

Use your imagination and eat happy!